The perfect carry-on; it's been 10 years in the making and something I'm always attempting to optimize. However, I feel pretty confident that I have crafted the perfect carry-on, also known to the airlines as the 'personal item.' My philosophy is based on buying great product, using pouches to consolidate small items, ensuring you always have the fundamentals handy, and packing everything in the most efficient way possible. People that dislike flying are probably missing a few of these essential items in their carry-on bag. Flying can be fun if you invest in great products that work for you and spend time thoughtfully packing them.
The elements of my carry-on are broken into different categories.
Purse-in-a-purse

Notepad/pen

The 'Essentials' pouch

Electronics

Comfort items

Photography
Purse-in-a-Purse + Travel Notepad/Pen
Purse-in-a-purse; I'm a strong believer that just throwing a wallet into your bag is not the most efficient way. Instead, pack a slim cross-body bag that can hold your wallet and all the fundamentals inside (passport, credit cards, travel cards, etc.) plus your phone and small cosmetics. When you arrive at your destination, you can easily pull out the purse and throw it over your shoulder for easy access. For international trips, I also carry a small coin purse, because most countries do not embrace paper bills for small currency, and having loose change strewn about your bags is super annoying.
Notepad and pen; this is a travel must-have in my book. Perfect for making quick notes or journaling during your trip. Physically writing things down never gets old. I love to shop for unique notepads at my travel destinations. The one pictured is Monet's 'Impression Sunrise' purchased at the Musée Marmottan in Paris.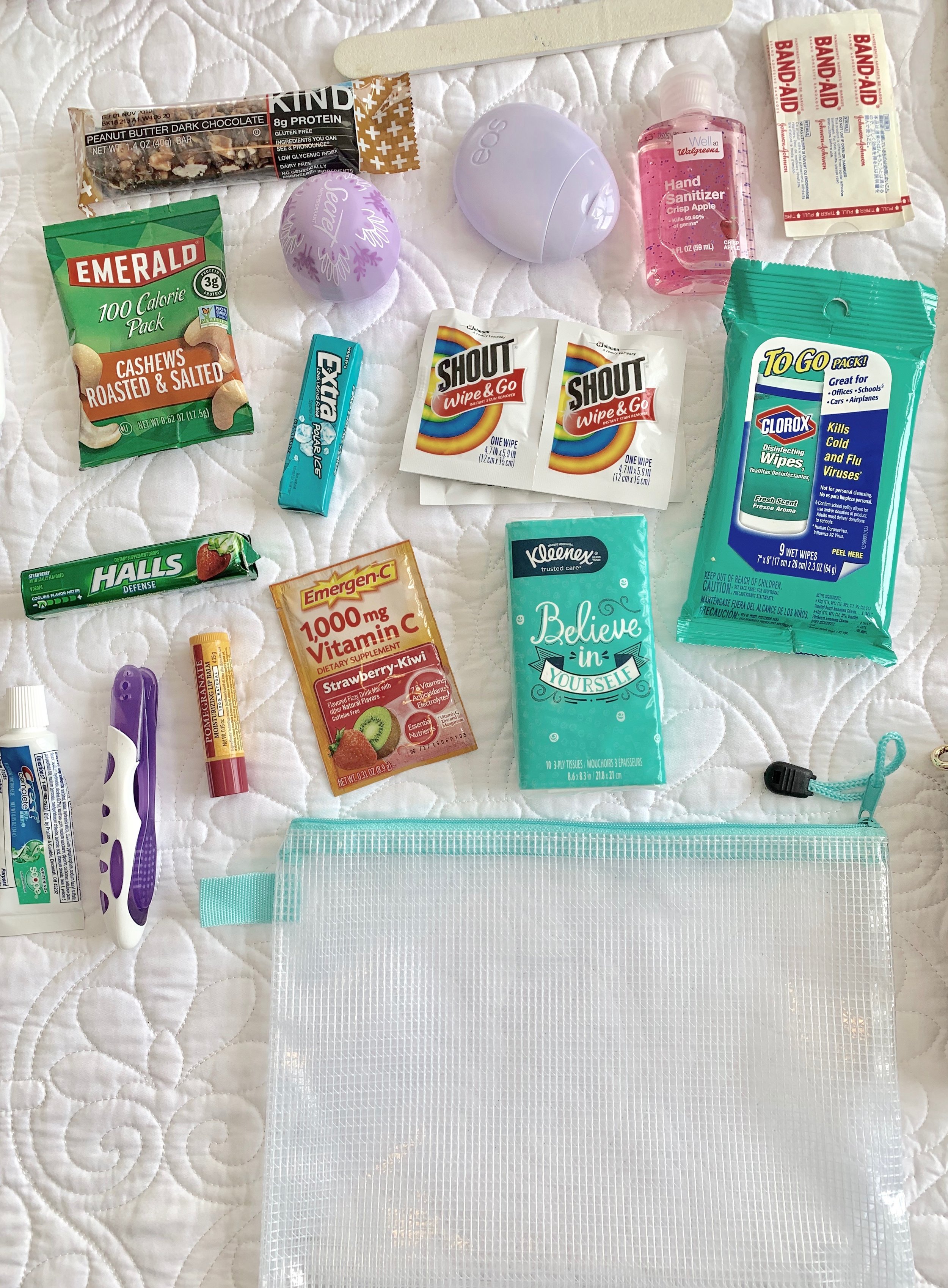 The 'Essentials' pouch; this has been a practice in-the-making with my Mom and I over the years. There's so many little things you need on an airplane that you want to be able to access easily without digging through your bag. Mine always includes:
Stay clean: Clorox wipes (for those disgusting tray tables and arm rests), Shout wipes (for any unplanned spills on clothing), hand sanitizer (always)

Stay fresh: hand lotion, deodorant, toothbrush, toothpaste, chapstick, gum, tissues

Stay healthy; multiple forms of Vitamin C. I always take a lozenge before departure and drink an Emergen-C in a water bottle upon landing to instantly re-hydrate.

Don't get hangry; snacks (high in protein) but easy to pack

Just in case; blister band aids, nail file

The pouch; Container Store Aqua Vinyl & Mesh Pouches are the absolute best pouches for travel (I use the small size for my carry-on essentials and the medium size for my liquid cosmetics).
Electronics; it is critical to have entertainment on airplanes. Do not rely on the airline for having in-flight entertainment (otherwise you will be sorely disappointed if it happens to be down) and the journey will seem never-ending. Also remember to charge your devices fully before departure and bring your critical charging cables on-board. Nothing is worse than running out of charge on an airplane.
iPad; my rule of thumb is only one device, that is full of multiple forms of entertainment (eBooks, Netflix, Prime Video, Games, Magazines), but just make sure you download everything in advance. I always test play-back by turning my iPad into Airplane Mode at home and make sure everything loads as expected. Also bring a small microfiber cloth to clean your screen for an optimal viewing experience.

Noise-cancelling headphones; this is critical. Invest in a great pair and you will not regret it. I prefer the corded Bose in-ear headphones as opposed to the over-the-ear ones, which are not space friendly and prevent laying down comfortably. The only downside of the Bose headphones is that you will need iPhone/iPad adapters to connect to your devices. I also bring along my AirPods for phone calls and listening to music while walking through the airport.

Charging devices/cables; someday our devices won't all require different cords, but until then, get organized with Ribbon Cable Ties. Also bring a charging stick in case of emergencies. Lastly, do not forget your country-specific travel adapters. I always buy the smallest ones possible on Amazon and have at least 3-4 handy.
Comfort; it is imperative to bring things in your carry-on that will make you comfortable on your flight. For me that includes:
Travel pillow; the pillows provided by airlines on long flights cannot be trusted. They are usually flat, lumpy, or completely useless. When flying in Business I bring a flat pillow that can be used for my head or back. When flying in Economy I bring a neck pillow no matter what. Pillows are not-super space friendly, however a trick I recently discovered are these compression packing cubes that will take anything flexible and bring it down in size.

Compression socks and water-resistant slippers; I was never a true believer in compression socks until I tried them out a few years ago. What a difference they make on long flights! Also, these water-resistant slippers are clutch. You can slip them on instead of your shoes when walking around the cabin or going to the bathroom. Walking around in just your socks is dangerous territory on a airplane full of nasty forms of liquid on the floors.
Sleep essentials; ear plugs and an eye mask are required for good quality sleep. Again, bring your own. Usually the airlines will provide a blanket for long flights, but also have a super-comfy sweater handy for when they crank down the air in-flight.
Photography Equipment; this is an extra category super important to me. I take two approaches for my camera equipment based on my travel scenario.
Approach 1: Carry-on only; if I'm carrying-on both my personal item and suitcase, then I will fit my camera equipment safely inside my roller-bag with my clothes (since I have control over the bag the whole flight and it won't be tossed around haphazardly by others). This makes my personal item much lighter and easier to carry.

Approach 2: Checked-bag; if I'm checking my bigger suitcase, then I will fit my camera equipment into small spinner that also acts as an easy way to push around my personal item (instead of carrying it on my shoulder). This is usually my approach for any international flights, because I will pack an extra outfit and some toiletries in the spinner as well, in case my luggage gets lost or delayed.
Consolidating all your items through the use of great pouches and bags is the fun part. It's amazing just how much you can fit inside if you are thoughtful about it.
My purse-in-a-purse, notebook/pen, essentials pouch, electronics, and most comfort items go into my Lo & Sons OG bag. My camera equipment goes into a small Travelpro spinner as previously described. I also use the spinner to hold my travel pillow for extra cushion and protection for my camera equipment.
If you are thoughtful about what you put in your carry-on and spend the necessary time packing it efficiently, your flying experience is guaranteed to improve! Hopefully these product suggestions, tips, and tricks are helpful for you. Sound off in the comments if you have any other awesome packing tips to share!
Bon Voyage!